Modular Freestyle Kiteboard – Inobo Woodio
Price: 899 euros
Sizes: 132X39.5 / 135X40 / 138X41
Weight: 3.8 kg – complete board
Description:
• 30 days free trial
• Delivery in 48h
• 2 year warranty
The Woodio is the freestyle deck. From Freestyler beginner to confirmed, this deck will be
effective in all water bodies conditions.
The Woodio kiteboard deck shares the same shape as the Stratos deck but has a completely different ride as we use wood instead of polycarbonate.
The 3D design of this deck brings a really confortable board and smooth ride while having a great ability to edge due to the different channels. Thanks to this 3D bottom shape the Woodio deck brings an impressive pop.
The carbon exoskeleton ensures the rigidity of the board. This one, unique, is used on all types of decks. It is made using the pre-impregnation process (used for the manufacture of foils in particular).
The rocker is directly given by the skeleton.
In the box: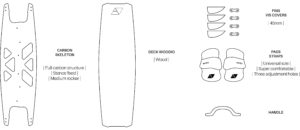 3D View :
https://sketchfab.com/models/baa7e9fc1e3d42f69718ec9c51facc17